Household Pests That Cause Damage And Spread Diseases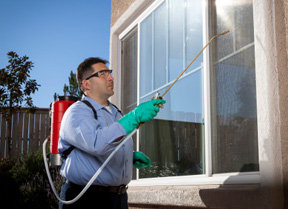 We wish to introduce ourselves as a team of professionals having considerable experience in Pest Control Operations.

It may interest you to know that we at BHAVANI PEST CONTROL SERVICES PVT.LTD. Have at your service qualified and experienced personnel to solve your various pest problems. Our technician are highly experienced and have been trained to carry out pest con­trol services safely and effectively. All our services are carried out scientifically using the latest pesticides and equipments available. It is our endeavour to provide you the excellent service at a reasonable cost.
Our progressive views and policies are reflected by the quality of our work. Keen foresight will keep you ahead of tomorrow's pest problems with our assistance. The pest problems are innumerable, and forever growing. The need to competently and effectively stem the problems caused by pests cannot be taken lightly.
We at BPC undertake various Pest Control Services which are stated below.
Termite Control (Pre-Construction Anti Termite Treatment And Post-Construction Anti Termite Treatment)
Disinfestation Service (Household , Commercial & Industrial)
Rodent Control
Treatment Against Powder Post Beetles And Wood Borers
Mosquito Control
Weed Control
Bed Bug Service
History of the company
Bhavani Pest Control an ISO 9001:2008 certified Co. was started in Thane by
Mr. Pralhad Kai with 30 years experience in Pest Control Industry. BPC has 22 employees which are educated and quality conscious. They are trained through audio-visual medium, formal classroom sessions and practical on-site training. BPC is Licensed Pest Control Operator (license issued by Maharashtra Govt.) and Active Member of Pest Management Professionals Welfare Assocation,Mumbai & Pest Management Assocation